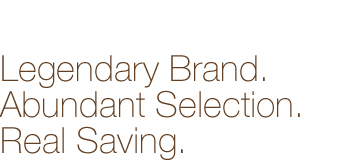 Under the umbrella of Pena House Group, we are not only the manufacturer and importer of fashion brands who provides products to various distribution channels but also one of the distribution channels who operates and develops retail stores under the factory outlet concept, namely OLM PROPERTY, Outlet Mall Company Limited. The group has diversified to non-garment business over the past 7 years in order to smooth its revenues after the intense competition in the textile and retail markets.

The business concept is to create channel of distribution to distribute out-of-date stock to end user (shopper). Our factory outlets offer guaranteed branded clothing at bargain, savings of 10%-70% every day includes fashions for ladies, gents and children, sportswear, golf, shoes, leather and luggage, house wares, home furnishings, accessories, gifts, toys.

Our targets are both local and international tourists. Each outlet is worth about 400-500 millions Baht in investment with approximately 16,000-18,000 square meters retail space.

At present, our factory outlets have become a great success by the co-operation of our tenants, both local and international fashion companies.
facebook/PremiumOutletThailand
@Outletmall-Thailand